Bike Night on Beale Street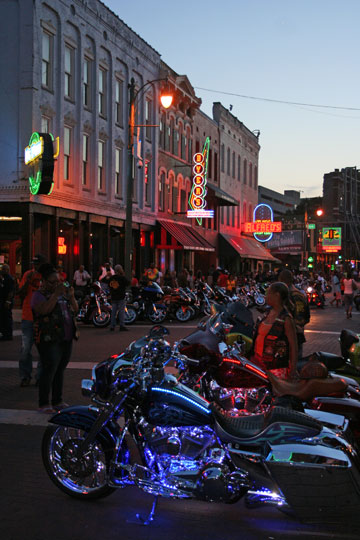 If you ask most people to name a street in Memphis, they're most likely to say Beale, if they say anything at all. With its bars, music and BBQ joints, all under a neon glow on a hot summer night, Beale Street is an adult amusement park, and on Wednesday nights it's for motorcycles only.
I rode the 600 miles from my home to the outskirts of Memphis last Wednesday, but that wasn't enough to tire me out and  make me miss my chance to see another city's version of Bike Night. All along the ride from Ohio to the banks of the Mississippi, I passed groups of riders headed for the National Bikers Roundup, in Tunica, Miss., this year. Many of them, like the woman proudly posing for a photo beside her neon-decked Harley, right, had the same idea I had and spent their Wednesday night on Beale Street in Memphis.
Music flowed out of the open doors of the bars and from the patio stages along three blocks of barricaded bikes-only parking. Here are a few of my photos from Beale Street.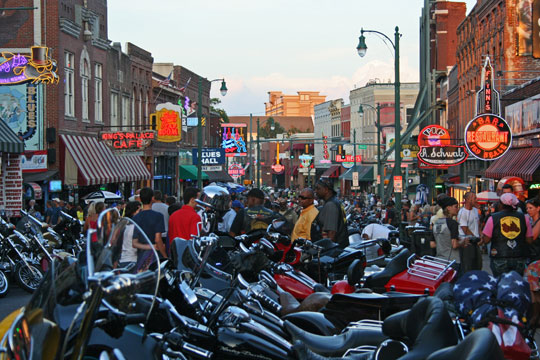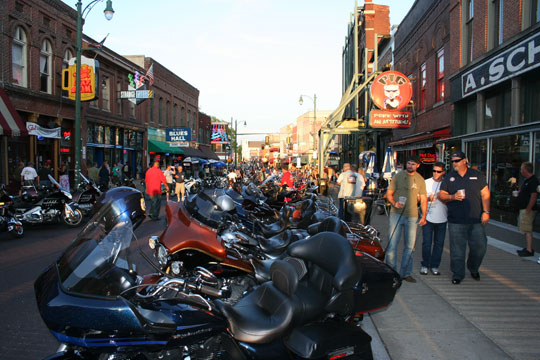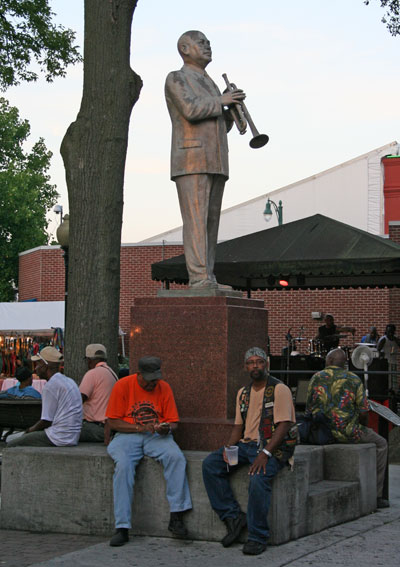 Of course Beale Street draws a crowd any night, but it was obvious a lot of non-riders also came out on a Wednesday night specifically to see the rolling show. In fact, I  went with my wife, brother-in-law, his wife and their two teenage children, none of whom ride (though my brother-in-law has a few tales and scars from riding small bikes in the Peace Corps in Africa), and they all had a good time.
Some folks snag one of the few outdoor tables squeezed into the narrow space along the sidewalk and watch the show go by. Others are inside listening to the band. But most walk up and down Beale, past a show that includes everything from a customized, home-built Norton to late-model Harley-Davidsons with enough lights in the engine bay to rival the bar signs overhead. If you need a meeting spot, the statue of W.C. Handy, "Father of the Blues," is a good one. The scene changes over the course of the evening as the sun sets, the glow of the neon signs takes over the night, and new riders arrive to replace those leaving, ensuring an ever-changing display of motorcycles.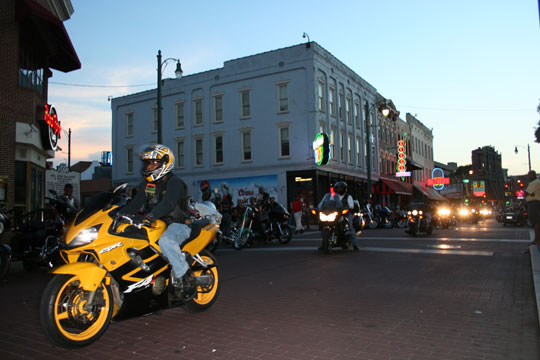 Related Posts via Taxonomies