Tank pad comparison: TechSpec vs. Stompgrip vs. Tank Slapper
I don't normally write product reviews on this blog, but here's an exception. If you're considering tank pads to protect the paint and provide better grip on your sportbike's gas tank, read on.
The main reason I don't write product reviews is that the web is full of uninformed "reviews" that are useless or worse: people shilling stuff on blogs or Twitter to get free swag from manufacturers, or ordinary owners praising a product they own even though they've never tried any of competing products. Unless I've tried competing products and feel I have some insight, I don't review anything. But almost by accident, I have done my own little comparison of sportbike tank pads/protectors.
When I bought my lightly used Triumph Daytona 675, it was less than a year old and had low miles but had already been through two owners. One of them had installed the Tankslapper vinyl to protect the paint on the tank.
Tank pads serve two purposes on a sportbike. If you're riding a sportbike correctly, you're gripping the tank with your knees and using your upper body to support your weight. Riders who complain about the weight on their hands and wrists aren't using proper technique. More important than the discomfort, the problem with resting your weight on your hands is that you'll put many unwanted steering inputs into the handgrips and you'll have less feel and fine control. You should be able to lift your hands off the grips while riding without falling face-first onto the tank. Tank pads do double duty of giving you a better surface to grip with your knees, especially under braking, and protecting your paint from wear over many miles of riding.
The Tankslapper is designed to do the latter of those two jobs. It consists of clear vinyl pieces that adhere to tank with nothing more than water. No glue is used and while they do a good job of preserving your paint without altering the original look, any additional grip they provide for your knees is minimal, at best.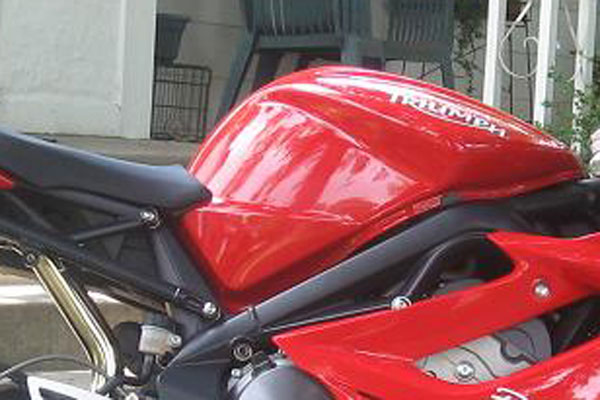 As you can see in this photo, taken when I first bought the bike, the Tankslapper is visible when the light hits at a certain angle, but much of the time it will go unnoticed. If you want protection for your paint while maintaining the look of your sportbike, the Tankslapper does the job. My problem was that eventually the edges kept peeling back. I would moisten and reapply, but the wind would still peel them loose (and no, it wasn't my hypersonic speed peeling them off). So I would say you should expect to replace the Tankslapper every so often.
Because I use the Daytona for track days, I needed grip as well as protection, so that's why I looked for other alternatives. I debated the Stompgrip pads and the TechSpec Gripsters, two popular options. I eventually bought the Stompgrips because they are available in clear material, as well as black, and I wanted to preserve the red look of the bike instead of adding the black of the TechSpec Gripsters. Hey, I like the red.
There's a reason Stompgrips are used on many race bikes. The material is soft and grippy by nature and the many rows of big nubs provide maximum grip when you clamp the tank with your knees under hard braking while desperately trying to get slowed down for the next turn at the racetrack. Any of us who have ever seen our ambition outweigh our talent will understand what I'm talking about.
Some people complain the Stompgrips scuff up their leathers because they are so rough, but that didn't happen to me. Maybe that was because I didn't have them long enough.
My problem with the Stompgrip was that I didn't like the way it fit the contours of the tank. Even though I carefully followed the instructions when applying them, I still got some air bubbles underneath. I could work them out, but they would eventually return when the Stompgrip pulled away very slightly from the tank where the tank was contoured. The photo below shows what I'm talking about.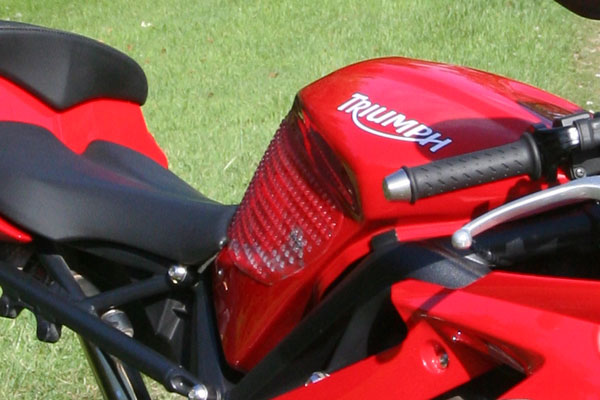 I thought about trimming the grip, so it wouldn't overlap the contoured area, but that's not so easy to do and make it look good because you end up with a finished edge all around except for where you trimmed. There are other ways around the problem, however. Some people choose smaller Stompgrips made for other models so that they fit solely on flatter area of the tank. Others use black Stompgrips and don't worry about bubbles because they can't be seen.
Not happy with the looks of the Stompgrips, I eventually went with the TechSpec Gripsters, a popular choice with many sportbike riders. The Gripsters are made of black, synthetic rubber and come in three versions, with slightly different thicknesses and "tread" patterns. Like the Stompgrips, you can buy them pre-cut to fit your bike's tank or you can buy "universal" pads. For my Daytona, there were even two choices of different cuts and I chose the smaller, which still provided lots of coverage.
While I initially wanted the clear look of the Stompgrips, I've learned to like the black look of the Gripsters, as seen below. It helps that my bike has a black frame.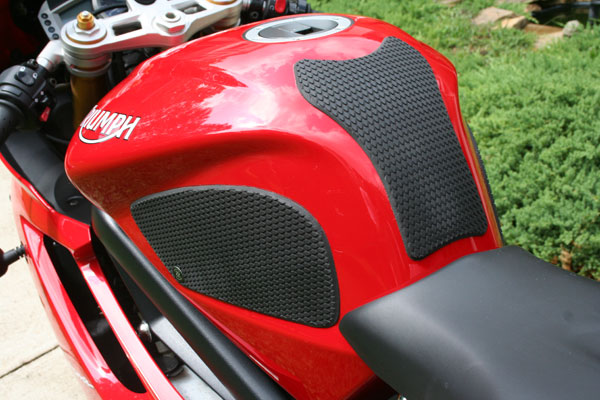 After a few years of use, the Gripsters have performed perfectly. They have stayed put and the edges have not lifted at all. They have a few signs of slight wear, but that's their purpose. The same amount of wear on the tank would have scuffed the clearcoat and the paint. More importantly, they provide good grip and feel at the track and on sporting street rides. The downside is that it would be a real project to replace them, but I don't think I'll ever have to.
So my bottom-line summary is this:
If you're not concerned about grip (maybe you have a bike with an upright riding position) and just want to preserve the paint, the Tankslapper will do the job. Expect to replace them every couple of years.
If you want maximum grip and a racebike look, consider the Stompgrips.
For good grip, decent looks and reliable performance, get the TechSpec Gripsters.
Related Posts via Taxonomies