When we envision a "custom" motorcycle, we almost always imagine a motorcycle that has had some of its utility removed in the name of art.
Choppers are ever more stretched, seats get lower and lower, ape-hangers get higher and higher. As a result, lean angle is reduced to five degrees and front end feel is gone with the bling. Sportbikes get long swingarms and lowered suspension, until the sweetest handling bikes ever built are converted into something that turns with the responsiveness of a garbage scow. At the V-Twin Expo this year, I saw my first 32-inch front wheel. I'm sure lots of people thought it was cool. I couldn't help thinking what a nightmare it must be to ride that bike at anything above parade pace.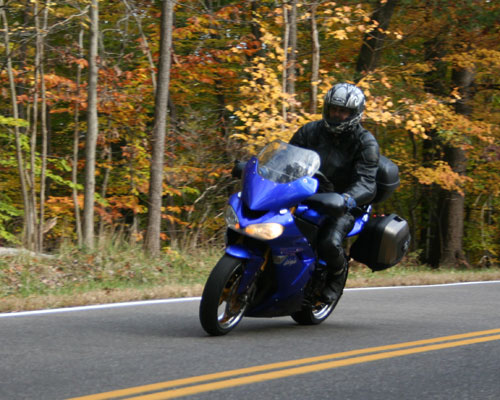 What if building a custom didn't mean sacrificing function for form? After all, "custom," at its most basic level, means building a one-of-a-kind machine that responds to one man's (or one woman's) personal ideal.
That's what Mark Morel did. He modified his motorcycle with his own hands and skills to suit him. His motorcycle wouldn't get a second look from the guys at the V-Twin Expo, unless they were looking at it to disparage it. The hard-core sportbike crowd would probably consider it a sacrilege. But it's every bit a custom: one man's perception of just exactly the bike he wanted. Continue reading A very different kind of custom →